---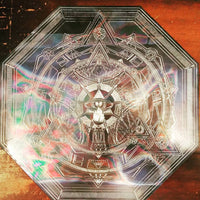 As you might imagine, this piece took a little bit of time to design and produce. It features fine geometry on aged brass, about 1mm thick and 11" x 11", octagonal.
"GATE 003"
This piece references esoteric art I have enjoyed over the years. It features the All-Seeing Eye, with a flaming chalice in front of it; which, to me, represent judgment and choices.
In geometry everything has to be just so, or a form loses identity. Yet how do you interpret these forms? Are you not, consciously or unconsciously, viewing my art through filters and attitudes you might have emulated from those you respect? What have they said about these shapes that might influence the way you look at them?
Now, what if you were to look into the origins of these symbols? Would the information in the oldest libraries match a search engine's results? So, what else might you discover? Would you be willing to risk feeling confident in what you believe you know in order to learn from those who knew before?
Of course, art is what you make of it.
Name: Gate 003
Material: brass
Size: 11" x 11" octagon
Price: $3,372.00
Delivered in an unexpected way